Get your copy of
"The Geeky Girl's Guide To Creating Your Online Brand"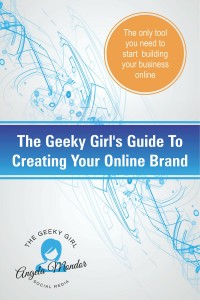 Whether you are a practiced social media user, or completely new to the game, The Geeky Girl's Guide To Creating Your Online Brand can help you to improve your online presence. This book outlines the pros and cons to each of the various social media platforms while helping you to decide which platform will best suit your business needs.
People spend hours on social media every day. Your customers are on social media, but how to find them? With all the varied platforms out there, choosing the right one for your business can be intimidating.
This book will help you take your business to the next level by maximizing your social media presence. You'll want to keep this book close by and refer to it often!
5.0 out of 5 stars
By Tom Stoyan, Canada's Sales Coach
on April 26, 2016
As social media is now your, 'primary promotional tool' this book will show you a clear step-by-step process to get the most from it! Angela takes you by the hand & provides the direction while giving you the confidence to take action. Then she beats that with her offer of a FREE 30 minute consultation as a book owner. That alone is reason enough to buy this book NOW!!!
You want to increase sales? Stop reading. Buy this book. Write out your first half dozen questions & then Contact ANGELA!




About the author:
Angela Mondor is a technology expert with a specialty in internet and social media applications. She founded Geeky Girl in 2010 with a mission to help business owners manage their social media presence.
Angela is committed to simplifying social media management for her clients. This Geeky Girl stays on top of today's ever-changing technology so you don't have to and she translates complex techie-talk into plain English.
With Angela's guidance, business owners are able to learn techniques to develop and manage their online persona — comfortably, easily and affordably. Using the expert services of Geeky Girl, business owners can focus on new and innovative solutions to take their business to the next level online.